Double Basses
We are very happy to announce our new line of basses for sale. We are exclusively distributing basses by Richard Gonon,Grand prix du concours international de la ville de Paris Concours Etienne Vatelot 2011-Contrebasse. His basses are very beautifully crafted and Monsieur Gonon will be visiting us early 2018 for one of our bass events. He has promised to bring samples of his work and his basses (4-strings and 5-strings) are currently available on demand. Please contact us for additional pricing information.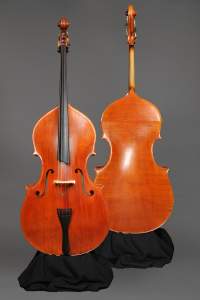 Additionally, Hannah Mayne is also part of our selected brand of basses available to our customers. I personally own one of her basses and I adore the sound of the instrument. It is an instrument that has an even sound in all registers and Hannah is a real artist. You will love to own one of her basses. Please call regarding pricing and availability. Hannah's instruments are played by many double bass artists all over the United States and is also quite busy doing restorations of old instruments. I am biased about her work and once you own one of her basses you will be too. The bass that you see here is a bass that Hannah made for me back in 2006 and it is the bass that you see featured in the two concertos for orchestra that I have posted in the miabass.org site. This is my solo bass. Proudly said!!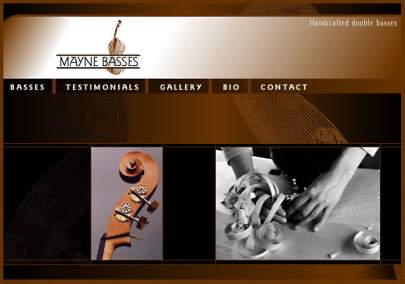 We also carry all the line from the Shen basses catalog. I have sold many Shen basses to all of my customers and every customer is quite satisfied with the quality of sound and the price of these instruments. Please contact us when you want a great sounding instrument at a very affordable price. We are so sure that our prices are the best in the market and we actually match prices or even better them up. Please give us a call and we'll prove it to you.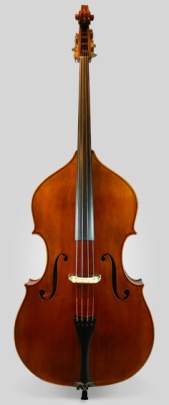 We are currently trying to expand our bass selection and we continue to arrange additional makers to allow us to offer their instruments. Stay tuned to our expansion of brands to meet your musical and budget needs.
Please call for prices since we are not allow to print our low prices on this site. (305) 735-9094 and ask to talk to Luis. I promise you will be glad you did.
Our most popular upright bass, the Marbello model is available in sizes ranging from 3/4 (traditional) to 1/8, and has the playability, deep tones, and durability to be a favorite for all styles of music. i have sold many of these basses to music schools and private students who find it easy to play and very affordable. I even recommend this bass as a second bass for a professional player who plays around town. It also plays well with a pick-up for those bassists who play jazz and shows. It comes with a bow (french or german) and a gig bag. It includes bridge and strings setup. It is priced at $1200
Crack Resistant Spruce Top
Arched Maple Back
Adjustable Rock Maple Bridge
Geared, Tyrolean Tuners
Includes Bow & Carrying Bag