Luis Gómez-Imbert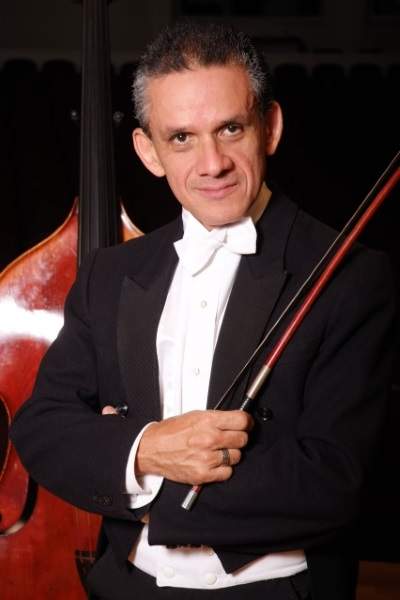 Luis Gómez-Imbert born in Caracas, Venezuela is a very active double bassist. Luis Gómez-Imbert studied double bass with Jeff Bradetich, Bertram Turetzky, Gary Karr, Frantisek Posta, David Walter and Edgar Meyer among others. He graduated Summa Cum Laude from Northwestern University in 1988.
Gómez-Imbert has also studied the orchestral literature with Warren Benfield and Joseph Guastafeste of the Chicago Symphony Orchestra, Edwin Barker of the Boston Symphony Orchestra; and Harold Robinson of the Philadelphia Orchestra.
Soon after graduating, he was presented along with his former professor Gary Karr on an ABC Good Morning America broadcast in the summer of 1988. Since then he has toured extensively through the Americas and Europe as a double bass soloist. Gómez-Imbert has played along with famous bassists such as Jeff Bradetich, Bertram Turetzky, Lucas Drew, with whom he premiered a concert for two basses in Venezuela and subsequently performed it at the Double Bass World Convention held at Indiana University in 1994.
Luis Gómez -Imbert is also active in several professional musical organizations from the South Florida area and regularly participates in chamber music concerts. He has been associated to the Atlantic Classical Orchestra as principal bass under the baton of Stewart Robertson. Gómez-Imbert has been an advocate for the performance of new works and many of them have been dedicated to him or composed at his request. Several of those were performed in North and South America, as well as in Europe, where he has been invited to play in different new music festivals in France, Austria, Italy, Spain and in the Americas. Mr. Gomez-Imbert was appointed as principal bass for the Miami Symphony Orchestra since 2013 by Maestro Eduardo Marturet.
He has premiered pieces from composers such as Celestial Voices by Orlando Jacinto Garcia, Alexandro Rodriguez, Juan Francisco Sanz, Domingo Sanchez-Bor, Roberto Cedeño, Mauricio Rodriguez and many more. He will play the world premiere of Love and Betrayal in March 2017 with the Miami Symphony. This concerto is based on the themes for the opera Carmen by Bizet.
Gómez–Imbert has recorded for the Lyric and OO labels. One of those recording was awarded the Contemporary Record Society's "1992 New Recording of the Year" by a panel that included famous composers George Crumb and Milton Babbit, as well as virtuoso cellist Yo Yo Ma.
Luis Gómez-Imbert joined the music faculty of Florida International University in the fall of 1994 as professor of Double Bass Studies and director of the FIU New Music Ensemble. His innovative teaching and performing style found an ideal venue to teach a varied group of American and international students, many of whom have performed in numerous professional musical ensembles throughout the South Florida area, as well as internationally.
Recently, Mr.Gómez-Imbert premiered Love and Betrayal, a double bass double concerto along Chi-Chi Nwanoku and the Miami Symphony under the direction of Eduardo Marturet. The work composed by cuban composer Mauricio Rodriguez was performed March 19, 2017 at the Arsht Center in Miami and it was well-received by the audience in attendance that day. Additionally, Mr. Gomez-Imbert has premiered double bass concertos along side Jeff Bradetich, Bertram Turetzky, Dr. Lucas Drew and Yung-Chia Wei.
Currently, Luis Gomez-Imbert is quite active teaching and using technology both at Florida International University and also with his private language project: Babelia and a video recording project of new music written for double bass projected to be launched Fall 2018.
The Babelia language project in partnership with Aisha Linke and a great team of developers will launch during Summer of 2019. It is a very ambitious interactive project designed to teach German, French, Italian, Spanish and English to language learner throughout the world with the use of technology and animation.
Videoclip 1st movement from the Sonata in three movements by Mauricio Rodriguez.
Here are some audio clips with Luis Gomez-Imbert playing double bass and Juan Francisco Sans at the piano.
De la Liberation de las Formas was written by Juan Francisco Sans. It is a one movement work with a structure considered perfect for many years: the Sonata form. This work follows the classical diagram of exposition, development and recapitulation with two contrasting themes which maintain a melodic/dialectic confrontation solved only at the end of the piece. The form is classical, but the way in which internal materials are used drives into a very Sui generis aesthetic outcome.
De la Liberación de las Formas
Tonada, from Las Meninas, is a typical milking song, rather reflective and with a kind of unspoken beauty.
Tonada from Las Meninas
Second part of a set of pieces composed as a movie soundtrack. Delicate atmosphere based on simple "new age" statements.
Dos Piezas para Contrabajo y Piano II
Here are some audio clips with Luis Gomez-Imbert and electronics.
Omaggio written by Domingo Sanchez Bor starts a new series of works dedicated to the Double bass and electronic processes. Here is a piece highly influenced by rock and free jazz. In fact this piece is written to the memory of two great rock/jazz musicians: Jimi Hendrix and Jaco Pastorius. The part played by Luis Gomez-Imbert and although it sounds like a free improvisation but it is completely notated. This work is violent, fast, dramatic up to its limits, thick, climatic and very difficult if not almost impossible to play. The piano part is sequenced and the electronic drums are played by Edgar Saume.
Omaggio
Written by Miguel Noya. It is divided into three mutant parts by using a menu of optional phrases processed by a tape delay system with a loop echo. Every time the piece is played, a new work is created. This movement (Rohanda) bears the idea of a continuous atmosphere.
Rohanda
The beginning of the double bass' melody written by Miguel Noya, is a quotation from Starless and Bible Black by Robert Fripp. Here you'll listen to a minimalist compositional approach with experimental rock elements.
La Gran Puerta