Bass Camp Information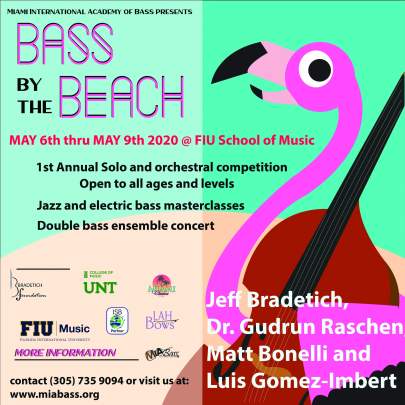 Bass by the Beach: May 6th thru May 9th, 2020
Total student tuition $150 for all four days. few scholarships are available. Bring your basses for a complete experience!
Double Bass Workshop for students, professionals and orchestra directors
Purpose: To bring together students and teachers of the double bass on all levels for two days of intense technical training, solo master classes, orchestral techniques, bass ensembles and performances. To provide a course for orchestra directors in the public schools on how to teach/play the bass.
Location: Florida International University School of Music. Herbert and Nicole Wertheim Performing Arts Center, 10910 SW 17th St, Miami, FL 33199. The schedule of activities is below.
Teachers:
Jeff Bradetich – Artistic Director, International Solo Artist, Professor at the University of North Texas
Luis Gómez-Imbert – Executive Director, Principal Bass of the Miami Symphony, Professor at Florida International University School of Music
Gudrun Raschen – Master Teacher, Lecturer at the University of North Texa]
Wednesday thru Friday we start our sessions at 5 pm until 9:30 pm. Saturday is our big day starting at 9:30 am and finishing up with a big bash concert starting at 7:30 pm. There is a limited number of competitor who will be accepted to the completion, so please enter your application early to secure a place. the list for the competition is as follows:
Repertoire Requirements:
Classical Bass Under 18: Two contrasting solos (Solos originally with piano must be performed with piano) Total time = 12 minutes
Classical Bass Over 18: Two contrasting solo works with piano and one solo Bach movement from any cello Suite
Total time = 15 minutes
Jazz Bass: Two different tunes to be played with staff piano and drums
Deadline: May 1, 2020
Prizes will be announced shortly.
Levels: Beginner, Intermediate, Advanced, Professional and Orchestra Directors. For the little ones, please contact Luis Gomez-Imbert regarding any special or particular needs.
Schedule: To be announced shortly
For more information or questions, contact us HERE.
Sponsors